Bass Boost- Laura Anderson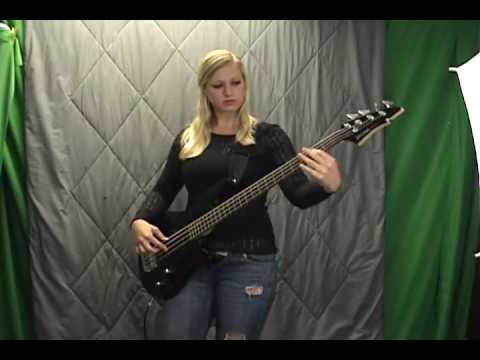 Dean P Nutt:  Great job Laura! You look very comfortable with your Bass, good finger work & solid playing. As I would suggest to any Bass player, try the one finger per fret approach (spread over 4 frets) to strengthen all your fingers & spend as much time with your instrument as possible. Other than that, I think you are doing great & look forward to seeing your future video's to see your improvement.
Damian Erskine: Nice video!  I agree with Dean above.  You already have nice technique, good time and feel and look comfortable playing the instrument.  I think things will naturally tighten up just a hair and your finger strength will develop the more you play but the only thing I can advise is to keep doing what you're doing!  Play often, transcribe tunes, take every gig you can and have fun doing it.  Seems that you're well on your way.
Simon Sammut: Nice job Laura! You already demonstrate a good level on the instrument. You also seem to be enjoying it too
Your timing is in place and tone is satisfactory for the track that you selected. You tend to overuse the first finger on you fretting hand. Try to use more all four fingers like Dean suggested but other than that it looks like you are on the right track. Keep practicing and challenging yourself with new material. Best Regards
Arran McSporran: Hi Laura, great work! Your time is very good and you have a good control of dynamics. Your picking hand looks very comfortable, so stick with that. Like Dean said, your fretting hand is good, but it could work a little more efficiently by balancing the use of all your fingers.
Notice when you are playing two E notes on the same fret but two strings apart (2:18) how much your left elbow moves. Try to reach for the notes by moving your fingers more, instead of your arm (ie, bend your index finger to reach the D string, instead of twisting your wrist). Notice also at 1:41 where you change fingers to your middle finger – this is good, but it would be even more efficient if you changed to your little finger here as you would be able to play the following F# and E notes easily with your ring and index fingers.
I'd also say just to watch that your thumb doesn't run parallel to the neck (or sneaks over the top too much) when you start to play an 'easy' section – try to always keep it in the middle and pointing upwards as you will be able to better reach any larger stretches once the 'easy' section has finished. Other than that, keep listening to and learning the music you love and always try to look for more music to challenge your playing!
Danny Fox: Nice playing Laura! You've been given some great advice by the guys already, so I'll try and add to it for you! One of the best approaches to push myself with learning new material and about the instrument I've used, is to learn EVERY role within the tune..meaning, first, the melody! Then the chord shapes, including any extensions,then playing the changes in our usual bassist role, and finally soloing the changes. The realbooks etc are great for doing this with as they provide everything you need, I think you may like this approach and learn untold new things about the instrument and music in general….I hope to see you play again! Have fun!
Stew Mckinsey: For me you've got the most important thing in place: You play with joy! It's really obvious that you enjoy bass both as an instrument and as a function in the music. You know the material well and don't flinch or falter, so — as has been pointed out, everyone's contributed great input — my comments will be few.
The only thing that I think you would improve would be a little bit in terms of the consistency of your attack. You play with confidence, which rules (and is all too rare among bassists!), but some notes are louder and others are quieter. There are also a couple of (very subtle) hesitations when you play. When these things become intentional and not accidental, you will be able to do some great things in the arrangement! Again, seeing that you love to play is the big thing. You've got that happening in a major way so don't worry too much about the rest. That comes in time and you will obviously be playing more!
Thanks for sharing this and I look forward to hearing more from you soon!
Max Esquivel: Hey Laura, I really dug your cover. I grew up listening to Los Fabulosos Cadillacs and it made me really happy to see you playing Vicentico's music.
First off, I think you have great time, great feel and a solid idea of the role you have as a foundational instrument. That much is evident. I also think you are thorough and dedicated to learning the song well enough to play it comfortably by memory. Those are wonderful assets.
Some of the guys mentioned your left hand needs improvement. The one finger per fret idea is something you should practice so you can achieve this. Also I think that the position of your bass has a lot to do with your technique. I get the feeling that you do most of your practicing while sitting down. Maybe using your strap at a shorter length so the bass is a little higher when you play standing is a good place to start. I usually try to adjust my strap so that the bass is at the same length/place no matter if I'm sitting down or standing up. I think it helps with hand position and technique. Also, I saw some other videos where you are sitting down and it looks like you feel a little more comfortable so just something to keep in mind. That being said, I think you're doing great. Keep it up!

Joseph Patrick Moore: Hi Laura, Love your energy. You look and sound like you are having a blast and it does translate via the video performance. You have good technique, but at times your left hand could be a bit more subtle (don't lift your hand off the fingerboard so much or so high). I can tell your reading a chart or following notes, totally cool as you pull it off well. Suggestion: Try to play it again, but don't look at your bass. Can you play it with your eyes closed or can you play it looking totally straight ahead without glancing at your fingerboard? Many of the note transitions of the song, could be played without looking. It is challenging and I know at certain moments (particularly on the 1 slide 3, 5, 3 lick) you may need to. However, try to break the habit of glancing at your bass as often.
When playing live, you want to engage your audience or look at other band members and yes, look at your instrument also. However, the more comfortable you get with your instrument and the music your playing, the less you should have to look at your instrument. Many times, this is simply done out of habit. Try to break this or at least be aware of it when you play. With that said, you did a wonderful job and you've got great potential. I look forward in hearing more from you in the future. Thank you for sharing. All the best!
Sarit Black:Laura it's great to see another female paying bass and loving it! You've got loads of great advice already, I agree with the others about maybe working a little more on your left hand technique – any one finger per fret exercises are brilliant for that to allow you to get a lot more dexterity out of that hand. Your finger technique with your right hand seems really fluid which is good. Try taking your strap up slightly, you might find it more comfortable when it comes to fretting your left hand.
Other than that, you seem to be well on the right tracks. There's nothing stopping you from exploring more of your bass, find alternative parts and counter melodies to throw into that song. And the same with any other song – you don't have to just learn what's already there. Keep up the good work though, you look like you're having fun with it and that's what it's all about!
Hey Laura!I love it, it's so fun to watch you play bass and have fun while you do it! As the other 'Bass Bossters' mentioned above, maybe if you tighten the strap, you'll have your bass higher and it might help you with the left – Personally, I always had the hardest time finding the strap for me, since I'm 5'4, and most straps were designed for taller people than me…:)
Another thing that I could recommend you – and this is me being super neat-picky – try to go back in the song and really listen to the drummer in the recording. Think how he or she is hitting the kick, snare and hi-hat. Then, ask yourself a question: "If I was playing live with this drummer, how could I make this person sound great?" – My personal choice would be to try to match the accents on the snare hits while you're playing the 8 notes at the end of the song. Again, that's a very detailed thing that most people wouldn't notice, but could help you develop a reputation of… "I don't know whatever Laura is doing, but when she plays, the rhythm section feels so good."
Keep doing it and having fun with it, that's what music is about!
 Amanda
Interested in getting some friendly and helpful advice from our team?  Send us a link of your video today.